Ever since Cristine Rotenberg started off her nail art YouTube channel "Simply Nailogical", she has only been spiralling her way towards virality. This beauty vlogger has been a key influencer in shaping nail art trends in an age when nail art was only budding into the thriving industry that it is now. Cristine has a massive following with over 7.6 million subscribers on her main channel. For the past seven years, Simply Nailogical has stayed in the spotlight as one of the most out-of-the-box beauty tutorials on YouTube. Here's how Cristine makes the big bucks. 
1. She hid her identity and planned a big reveal 
When Christine started her YouTube channel, she didn't reveal her identity. She only showcased her nails and voice in her videos. Once she built a buzz around her channel and sparked curiosity amidst her viewers, she went for the big reveal. 
2. She had a nail blog first
Cristine started off her nail art career with a blog. She posted nail art tutorials with pictures and explained how to replicate the nail art design in writing.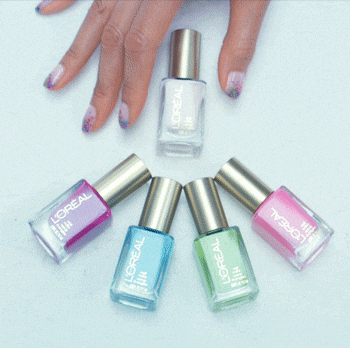 3. She launched a second YouTube channel
Two years after she went viral on her main channel, Cristine launched her second channel "Simply Not Logical". She leveraged her second channel to post less structured and carefree videos. For example, Cristine dedicated a whole series to opening fan mail. She now has over 2.9 million subscribers on her second channel. 
4. One video took her to stardom
Her channel skyrocketed in 2016 when her video "Polish Mountain" went viral. The video features a unique "100 layer challenge" where Cristine piled 100 layers of nail polish on her nails, one on top of the other. This video inspired other creators to add their own twist to the 100 layer challenge. One of the most popular being "100 Coats Of Liquid Lipstick" by mayratouchofglam and "Ultimate 100 Coats of Things' by Jenna Marbles.
5. Cristine uses her comment section for inspiration
Cristine collects ideas for her new videos from her comment section. Her video "I spent $1,000 Following A nikkietutorials Makeup Tutorial" which was also inspired by her comment section gained 14 million views. 
6. Humour sells
Cristine's sarcasm and witty comments give her videos a unique twist. She has a natural sense of humor and vibrant personality that attracts a diverse audience set to her channel. 
7. She maintains a personal viewer-creator relationship
Cristine often involves her boyfriend, sister, and even her boss to create exciting content. This makes her videos more personal and helps viewers connect with her life off-screen. 
8. Cristine leverages her roots to strengthen her local fanbase
Cristine mentions and shows her love for various Canadian brands like Roots and Maple Everything in her videos. She also makes several Canadian references where she shows her viewers how to make authentic Canadian food such as maple taffy on a stick.
9. She knows how to strike a chord with the right nonprofits
Cat videos are one of the most loved and most-watched videos on the internet. Cristine went the extra mile to design hoodies featuring her cats Menchie and Zyler and donated all her profits to a cat shelter in Ottawa. 
10. She goes big on catchphrases
Cristine uses interesting catchphrases like"What do you think", "Have fun before you die!" and she calls herself "Cristine with no H''.
Cristine reinvented the nail art and beauty community with her abstract and unconventional ideas. We can't wait to see what she has in store for us in 2020. 
Interested in getting your YouTube channel seen by a huge audience? Get started here: www.flintzy.com